The best way to empower an entrepreneur is to let them have access to markets. A person with access to markets is more empowered than one with access to finance! Marketing comes first and finance follows. A market is where all the business is, money does not necessarily mean business.
A college student finishing college should have skills on how to obtain a market and benefit from it-this is the ultimate empowerment. Once you secure a market then you have many options on securing capital such as bank loans, salary advances, crowdfunding, invoice discounting or partnerships. Digital marketing is therefore a must for every business owner as it helps to unlock opportunities in an efficient and effective manner. Our forum has done highly successful regional digital marketing campaigns that has resulted in Zimbabwean designed programs going viral across the region.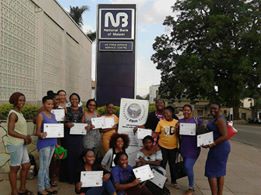 We have had over subscribed training events in South Africa, Malawi, Lesotho, Namibia, Swaziland, Botswana and Zambia and created valuable contacts and distribution channels. Our global thinking approaches have enabled us not to worry about current cash crisis in the country as Durbanites, East Londoners or the BaSotho have different economic environments to Zimbabwe.
Our carpet making course included Digital Marketing as an empowerment tool which helped thousands of entrepreneurs to successfully market their products across the region. Our training is therefore hands on and include the following:
Online opportunities in Southern Africa.
How to design a successful regional digital marketing strategy
How to create online content incorporating the experience economy and graphic designing
Search Engine Optimisation [SEO]: How to benefit from having your online content being on top of search engines
 Big Data and Google Analytics use for small business owners
How to effectively use your website to create value for your business
 Effective use of tools such as Facebook Boosting to reach out to millions of clients at little to no cost
E-commerce including how to open your own online shop
This is a hands on training and you should be able to produce content that helps you market your products or services across the borders. Being business centred, the training introduces you to Big Data and the simple to use tools business owners can tap into in tracking who their clients are, where they are based and how to tap into their online buying behaviour.
Target Audience
Small business owners | Lawyers | Medical Practitioners | NGOs and Consultants
The training costs $40 and will be held over 2 weekends at our offices located at No 34 Quendon Road Monavale in Harare. Our contact number is +263339454 and +263774081808. There is a bonus of a Digital Marketing Book plus Business Opportunities for Zimbabweans Book.
616 total views, 1 views today