One of the must know business tools or techniques is the SWOT Analysis technique. SWOT (strengths, weaknesses, opportunities and threats) analysis can help you identify and understand key issues affecting your business.
When you have a big business decision to make, one of the smartest things you can do during the planning process is conduct a SWOT analysis. It is an analytical framework that can help your company face its greatest challenges and find its most promising new markets.
SWOT analysis enables organizations to identify both internal and external influences. SWOT's primary objective is to help organizations develop a full awareness of all the factors involved in a decision. It is impossible to accurately map out a small business's future without first evaluating it from all angles, which includes an exhaustive look at all internal and external resources and threats.
A SWOT analysis focuses entirely on the four elements namely Strengths, Weaknesses, Opportunities and Threats.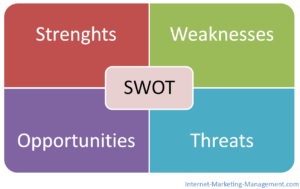 Strengths and Weaknesses: These are the internal factors within an organization.
Human resources – staff, volunteers, board members, target population
Physical resources – your location, building, equipment
Financial – grants, funding agencies, other sources of income
Activities and processes – programs you run, systems you employ
Past experiences – building blocks for learning and success, your reputation in the community
Current processes, such as employee programs, department hierarchies and software
Opportunities and Threats: These are external factors stemming from community or societal forces.
Future trends in your field or the culture
The economy – local, national, or international
Funding sources – foundations, donors, legislatures
Demographics – changes in the age, race, gender, culture of those you serve or in your area
The physical environment
Legislation
Local, national, or international events
Market trends, like new products and technology or shifts in audience needs
Political, environmental and economic regulations
Below is an illustration of a quick SWOT Analysis of The Zimbabwe Business Ideas and Network.
| | |
| --- | --- |
| Strengths | Opportunities |
| Large diverse group of members | Supportive Government Policies in place to support SMEs |
| ZBIN Membership made up of a lot of Professionals and Entrepreneurs | Regional expansion opportunities |
| Forum leadership made up of a diverse group of professionals | Access to capital and willingness to invest by Diaspora |
| Active Membership | Great Networking & Market Potential |
| Threats | Weaknesses |
| New entrants to the sector | Lack of resources |
| Slow member registration | Part-time leadership |
| Access to market challenges | Diaspora investment not fully appreciated |
So what next after drafting a SWOT Analysis document?
Your next step should be to come up with an Action Plan which will guide you in terms of follow up strategies. For instance you may want to take advantage of your strengths or take an advantage of emerging opportunities in your environment. You can come up with top priority areas to action, who will be responsible for what  and when. Make it a practice to always review and update your document. You can even include this document whenever you are reviewing your monthly financial performance
We hope to bring you  more Management Tools and next week we tackle Financial Performance.
1,297 total views, 1 views today