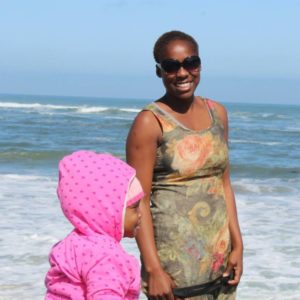 ZBIN continues to engage our Diaspora community especially our active members and the objective is to obtain helpful information about living in foreign land, opportunities that exist and a whole lot of information that is not easily available. Today 2 days before new year, we are fortunate to have a Zimbo sister now based in Kenya. Merryln Kudzai Chizanga -Kika is our official  ZBIN Kenya Contact and below she answers a couple of questions we posed to her.
---
1.Tell us briefly about yourself
I am a Zimbabwean lady married to a Kenyan. Blessed with one child, living and working in Kenya.
2.How is the weather in Kenya?
Generally the Western low lands which are along the Lake Victoria are warmer as well as the Coastal lowlands. The Central and eastern highlands are colder, including the capital city of Kenya,Nairobi.
3. Kenyan Food?
There is a variety of foods,all depending on tribes and regions for instance  in the coastal strip you find spiced Swahili dishes originating from India and Arabia and in central areas you find Bantu related foods like beans,potatoes etc and in the western side you find more of ugali (sadza) and fish from the lake.Moving to the North which is very dry there is mostly beef and milk. Generally crosscutting foods include chapati,ugali and nyama choma (gochi gochi).Urbanites tend to opt for KFCs, Debonairs etc
Well, I'm still learning and I don't find it so difficult as most words are Bantu. It is like a mixture of Ndebele and Shona.
5.Compare and contrast Kenya and Zimbabwe
Unlike Zimbabwe,Kenya is culturally diverse. It has got so many tribes and languages (44) in total, but there is a unifying language which is taught in schools,Kiswahili. In terms of politics, politically charged violence can easily erupt in Kenya prior to elections meaning that in terms of business one might have to close down until there is peace. Corruption is very high in Kenya, you may have to part with a lot of money in order to get what you want. As you have read in the papers and also watched on news, compared to Zimbabwe, Kenya is more prone to terrorist attacks/activities.
6.Is there a big Zim community in Kenya?
No, not compared to other countries.
7. Your favourite holiday destinations in Kenya?
So far I have been to the coast, I liked it there,but not really my best. I have heard a lot about Masai Mara and I look forward to visiting it one day. That would be my best.
8. Ever been to the Carnivore  Restaurant?
No. Not yet.
9. Involved in any business activity in Kenya
Yes,I run a small baking business. I make customised cakes and other baked treats for different functions.
10. Any emerging business opportunity in Kenya?
It all depends on what one is interested in. Personally I believe there is always opportunity everywhere. The total population in Kenya is about 44 million so the Consumer Base is very large, whatever business you can decide to venture into you will always get one or two customers. At the same time it is a very fast country and Kenyans are very hardworking and progressive people which also makes competition to be very high.
11.Tell us your experience about your poultry project back home last season.
That was a complete flop. I just saw many people going into the  chicken business and doing well and thought I would try it.With no experience whatsoever and worse without being there on the ground. In the end the project did not do well. I learnt a lot from that experience and I believe it has made me a better entrepreneur .Research is always important.
689 total views, 1 views today