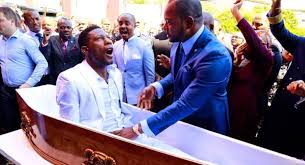 Zimbos are well known for being hard working and have a reputation for being honest citizens and a look at neighbouring countries shows that the population of Zimbos in jail is quite small. You will see them busy with entrepreneurship activities buying and selling goods and earning an honest living.
Back home our ranking on the corruption index is worrisome! The number of fraud and unethical practices being recorded is on the upward trajectory. Funds misuse from the National Aids Council has been trending this week and you can also add Cyclone Idai Disaster funds which are mired in controversy with allegations of misuse.
The low ranking on the corruption index is partly caused by economic challenges the country is currently facing resulting in many resorting to fraudulent activities. So what are the top scams trending in the country?
Bitcoin Trading: The good name of Bitcoin has been tarnished by fraudsters who ask investors to give them money and invest on their behalf. They come up with too good to be true investment returns and usually create Whatsapp groups where they fleece members of their hard earned income. Research more about Bitcoin and do not give money to anyone…kusungiriramari pagumbo rengwe!
Online Forex Trading: It made headlines in South Africa and the wave swept across the region like a cyclone. Promised instant riches for investors but however with time, the real beneficiaries of this scheme were forex trading trainers! Those selling forex trading signals or scammers asking investors to give them money so that they could trade on their behalf. See an online forex trading advert? Run away like Usain Bolt.
Employment Scams: The record high unemployment rate in the country is leaving many vulnerable to online scams. From processing fees for nurse training positions or visa and permit processing fees. Be careful of jobs in Dubai whereby employment seekers go through a telephone interview process and asked to submit qualifications. Employment contracts signed and submitted with job seekers asked to come to Dubai. The scam starts when a job seeker is asked to send funds to a visa processing company. After funds are submitted….zvavharana! Some even have legit websites such as Karum Hospital based in Dubai but when those based there try and verify the physical presence of the hospital-they often come with blanks. If a job offer is too good to be true and you are asked to submit funds….Run like Brian Dzingai.
Partnership Scams: This one is not easy to detect but many are counting their losses after investing funds in partnership businesses. Some with brilliant business ideas but unable to access funds from banks are getting 'free capital' from partners. Everything looks good on paper and you invest funds or machinery in the business but before profits are shared…you are kicked out of the business! Some may even steal material or withdraw funds to start their own separate businesses. This is the riskiest method of doing business in the current environment. If someone is not a close relative or friend, then increase your risk levels to 99%….even those close relatives cannot be trusted either, many have been left with broken hearts by trusting close ones. Someone comes with a partnership deal? Then run like Maria Mutola.
Real Estate Scams: The demand for urban residential stands is extremely high…after all we all want to own homes and stop paying rent. Scammers know about this and they come up with all sorts of adverts in newspapers and social media. To protect yourself 100%, do not buy residential stands from individuals or real estate agents. Wait for housing developments from reputable institutions such as CABS, FBC, CBZ, Fidelity Life etc. Our courts do not have any record of anyone duped by these institutions which have a reputation to protect. What you find in the media and the courts are people scammed after buying from individuals and real estate agents. Seen an advert from an individual or real estate agent selling residential stands? Run like Brian Badza.
Ponzi schemes: Who remembers MMM? That ponzi scheme that collapsed a few years ago and went down with more than US$6m of investor funds. They promised high returns and initially delivered…the delivery helped build trust and more were recruited and then the unthinkable happed. The scheme collapsed like a deck of cards leaving many with health problems such as high blood pressure and diabetes. The scheme is back once more but operated by locals. They create Whatsapp groups and ask for deposits and after Eco-cashing funds then its end of story. Seen any adverts promising huge return on investment? Then run like Mark Marabini.
Church Scams: Who remembers the resurrection fraud? Now that Zimbo man at the centre of the fraud should go into history books as the dumbest fraudster ever! The trust we have in churches is leading to many church leaders coming up with investment scams whereby church members are asked to invest in certain projects and get a good return on investment. Some buy bricks expecting miracle homes but we have no record of miracle homes ever built. Let's put this on record…pay tithes and offerings, help in building churches and spreading the good word of the Almighty! However be wary of church scams, watch closely anything suspicious especially when asked to invest in anything with the promise of huge returns. Seen anything suspicious and your sixth sense raises a red flag? Don't run away from the church though, remain seated and do not be coerced into scams!
Relationships Fraud: Digital platforms are the best place for relationship scams. Be careful of dating sites where gorgeous photos are posted especially by people who purport to stay in the developed countries. Some promise lovers a good life and processing visas and permits. They take their time in 'falling in love' and later try to send gifts but however there is a catch….you have to send monies for transportation fees. Uchingotumira mari…rudo rwapera, phone unreachable! Fallen in love over the net and asked to send any money? Then run like Julia Sakala.
DSTV Payments: Difficulties in paying DSTV subscriptions has opened an avenue for scammers. Their modus operandi is a simple one, transfer funds to connect to the DSTV services and then disappear into thin air! Seen any DSTV adverts? Your option is to ignore or run like Tendai Chimusasa.
Agriculture Fraud: Did you witness the hilarious fraud that took place a few months ago? A farmer bought broiler chicks in Bulawayo and invested heavily in his poultry project. With high expectations of a huge return on investment, the farmer fed the chickens, bought feed and chemicals but there was something amiss. The chicks kept on feeding eating tonnes of feed but there was little growth! Alarmed by the non growth, he consulted experts who examined the chicks and told him he had been scammed! Be wary of agriculture scams selling unbranded products…it can be extremely costly. Buying chicks, fertiliser, cement or seedlings from the road? Stop and run like speed boat.
There are more scams in the country, just be on the lookout. Any new opportunities, anything too good to be true or promising fast returns? Then keep running….
Do not miss out our book on business opportunities coming out in May 2019. We have also included risk management experiences in our SA book. Yes there are plenty of business opportunities around us but we need to be vigilant on risks.
445 total views, no views today